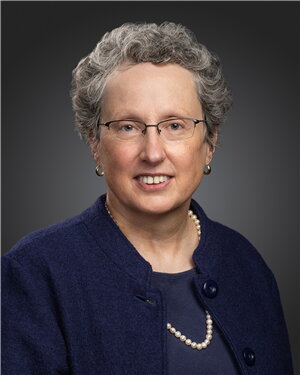 Contact Information
U of I College of Medicine
Carle Forum, MC-474
611 W. Park
Urbana, IL 61801
Associate Dean for Engagement, Carle Illinois College of Medicine
Biography
Janet A. Jokela, MD, MPH, FIDSA, MACP, is the Acting Regional Dean of the University of Illinois College of Medicine at Urbana.
Dr. Jokela joined the faculty at the University of Illinois College of Medicine in Urbana in 2000. At the College of Medicine, she has served in multiple roles, including Course Director for Introduction to Human Disease, Director of the Internal Medicine Residency Program, and Director of Continuing Medical Education.  She is a member of the University of Illinois College of Medicine's Core EPA Team, representing the Urbana campus.  In addition to serving as Acting Regional Dean, she also serves as Head of the Department of Internal Medicine.
The author of multiple peer-reviewed publications and numerous regional and national presentations, she is a respected scholar and sought-after speaker.  She is the recipient of multiple awards, including the American Medical Women's Association Exceptional Mentor Award, the Laureate Award from the American College of Physician (ACP) Illinois Chapter Downstate Region, and the Leonard Tow Humanism in Medicine Award from the Arnold P. Gold Foundation.
A 2015 Fellow of the Executive Leadership in Academic Medicine (ELAM) Program for Women, Dr. Jokela was one of 54 women in academic medicine from across the country selected to participate in this leadership training program.  She is also a Fellow of the Infectious Disease Society of America and an ACP Master, the ACP's most prestigious recognition of its members.  She has served as Governor of the ACP Downstate Region of the Illinois Chapter, ACP Regent, and is currently Treasurer-elect of the ACP.
Dr. Jokela attended the University of Minnesota where she earned her bachelor degree (graduating Phi Beta Kappa and summa cum laude) and her medical degree. She served as an intern and resident in internal medicine at Boston City Hospital in Boston, MA.  She completed her infectious disease training at the Harvard Medical School Longwood Area Program, at Beth Israel and Brigham and Women's Hospitals, and received a Masters in Public Health from Boston University.  After her fellowship training, she worked at the Massachusetts General Hospital-Revere HealthCare Center, and served on the faculty of Harvard Medical School precepting residents and students in the clinic and on the wards, as Unit Chief of Adult Medicine, and as Director of Public Health for the city of Revere.