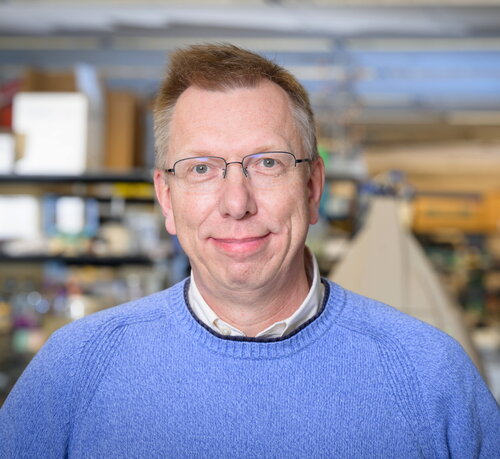 Contact Information
Department of Chemistry
University of Illinois
161 RAL, Box 38-5
600 South Mathews Avenue
Urbana, IL 61801


Richard E. Heckert Endowed Chair in Chemistry, and Howard Hughes Medical Institute Investigator
Biography
Professor van der Donk received his B.S. from Leiden University, the Netherlands, in 1989 and his Ph.D. from Rice University in 1994. He went on to do postdoctoral work at the Massachusetts Institute of Technology, and joined the faculty at Illinois in 1997. In 2008, he was appointed as an investigator of the Howard Hughes Medical Institute. His research interests are in organic chemistry and chemical biology.
Research Interests
Preparation of new antibiotics; synthetic and combinatorial chemistry; understanding enzymes involved in inflammation; enzyme engineering; design of new catalysts to clean-up polluted environments; mechanistic enzymology of metalloenzymes; antibiotic biosynthesis; genome mining for new natural products; synthesis of peptide conjugates
Research Description
Our research program focuses on the discovery and design of new antibiotics and natural products. These projects combine synthetic organic and protein chemistry to address problems at the interface of chemistry and biology.
Numerous reports of multi-drug resistant bacterial strains have appeared in recent years, with several strains posing the threat of becoming immune against all commercially available antibiotics. It is evident that in order to prevent potential epidemic outbreaks of infectious diseases, a renewed focus on antibiotic research is highly desired, including the search for new drugs with alternative cellular targets, the investigation of the mechanisms of cytotoxicity and resistance, and the understanding of biosynthetic pathways. Unfortunately, at this time of critical need for new antimicrobial agents, the large pharmaceutical companies have almost entirely withdrawn from this area due to small projected profits. The van der Donk group focuses on the mode of action and mechanism of biosynthesis of two classes of antibiotics that have been underexplored but have great potential for human therapeutic use, lantibiotics and phosphonate antibiotics.
Cyclic peptides are attracting increased attention for their potential applications. They are metabolically more stable than linear peptides and are promising candidates for disruption of protein-protein interactions. Natural product cyclic peptides are generated by both non-ribosomal and ribosomal pathways. The molecules produced by the latter route have rapidly expanded in recent years as a consequence of the explosion in genomic sequence information. These pathways, in which a linear precursor peptide is generated ribosomally and subsequently post-translationally modified, provide many attractive opportunities for bioengineering. First, the amino acid sequence is genetically encoded, allowing site-directed mutagenesis approaches to access analogues. Second, the pathways towards these compounds usually involve a relatively small number of biosynthetic enzymes. In turn, such relatively short pathways are more amenable to bioengineering approaches. Third, the biosynthetic enzymes are often highly promiscuous. We have demonstrated that genome mining can uncover new cyclic peptides with novel structures and activities and we have shown that these pathways lend themselves well for engineering.
Natural products containing carbon-phosphorus bonds (phosphonic and phosphinic acids) have found widespread use in medicine and agriculture. Recent years have seen a renewed interest in the biochemistry and biology of these compounds with the cloning of the biosynthetic gene clusters for several family members. With the Metcalf group in Microbioloyg, the Nair group in Biochemistry, and the Zhao group in Chemical and Biomolecular Engineering, our group has developed discovery methods for novel phosphonate natural products and has investigated the unprecedented chemistry that takes place during their biosyntheses.
In summary, we use genome mining strategies to discover new natural products, use microbiology and genomic tools to determine their mode of action, use chemical biology techniques to study their biosynthesis, and use synthetic chemistry to improve their activities and therapeutic properties.
Awards and Honors
2021 Member of the National Academy of Sciences
2020 Harrison Howe Awardee
2020 Pedler Award, the Royal Society of Chemistry
2017 Repligen Award, American Chemical Society
2017 Vincent du Vigneaud Award, American Peptide Society
2016 NIGMS Merit Award, NIH
2015 Bioorganic Chemistry Award, Royal Society of Chemistry
2014 Member of the American Academy of Arts and Sciences
2013 Emil Thomas Kaiser Award, The Protein Society
2012 Fellow of the American Association for the Advancement of Science
2011 Fellow of the American Academy of Microbiology
Additional Campus Affiliations
Richard E. Heckert Endowed Chair, Chemistry
Professor, Chemistry
Professor, Bioengineering
Professor, Biomedical and Translational Sciences
Professor, Carl R. Woese Institute for Genomic Biology
Recent Publications
Ayikpoe, R. S., Zhu, L., Chen, J. Y., Ting, C. P., & Van Der Donk, W. A. (2023). Macrocyclization and Backbone Rearrangement During RiPP Biosynthesis by a SAM-Dependent Domain-of-Unknown-Function 692. ACS Central Science, 9(5), 1008-1018. https://doi.org/10.1021/acscentsci.3c00160
Bown, L., Hirota, R., Goettge, M. N., Cui, J., Krist, D. T., Zhu, L., Giurgiu, C., van der Donk, W. A., Ju, K. S., & Metcalf, W. W. (2023). A Novel Pathway for Biosynthesis of the Herbicidal Phosphonate Natural Product Phosphonothrixin Is Widespread in Actinobacteria. Journal of bacteriology, 205(5). https://doi.org/10.1128/jb.00485-22
Daniels, P. N., & van der Donk, W. A. (2023). Substrate Specificity of the Flavoenzyme BhaC1 That Converts a C-Terminal Trp to a Hydroxyquinone. Biochemistry, 62(2), 378–387. https://doi.org/10.1021/acs.biochem.2c00206
Lee, H., Wu, C., Desormeaux, E. K., Sarksian, R., & van der Donk, W. A. (2023). Improved production of class I lanthipeptides in Escherichia coli. Chemical Science, 14(10), 2537-2546. https://doi.org/10.1039/d2sc06597e
Mazo, N., Rahman, I. R., Navo, C. D., Peregrina, J. M., Busto, J. H., van der Donk, W. A., & Jiménez-Osés, G. (2023). Synthesis of Fluorescent Lanthipeptide Cytolysin S Analogues by Late-Stage Sulfamidate Ring Opening. Organic Letters, 25(9), 1431-1435. https://doi.org/10.1021/acs.orglett.3c00122