Image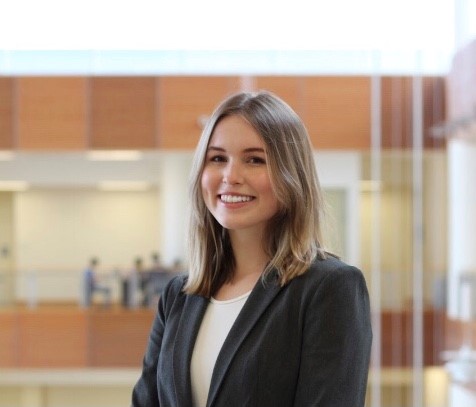 University of Illinois Urbana-Champaign Electrical and Computer Engineering alumnus Arjun Athreya. PhD, sometimes feels like he never left the Illinois campus at all.
Now a professor of pharmacology and psychiatry at Mayo Clinic, Dr. Athreya has mentored two Illinois students through the Mayo Clinic Summer Undergraduate Research Fellowship (SURF) program – Angelina Wilton, Molecular & Cellular Biology and Psychology (2021) and Milica Barac, Bioengineering (2022). 
"Hosting Illini is like welcoming family. I enjoy hearing all the new happenings on campus, new lessons they learn, and feel inspired by the Illini passion for excellence in all walks of life," said Dr. Athreya.
Each year, Mayo Clinic invites approximately 180 undergraduate students from across the nation to participate in their SURF program, which provides undergraduates the opportunity to work at the forefront of biomedical research at one of the world's leading medical centers. As part of the longstanding Mayo Clinic & Illinois Alliance, Mayo Clinic reserves seven spots each year for University of Illinois Urbana-Champaign students, who are chosen by a pre-selection committee.
As a 2021 SURF, Wilton worked in Athreya's lab to work on establishing multi-omic biomarkers of antidepressant response in individuals with a history of suicide attempts. Their work was recently published in Frontiers Pharmacology, with Wilton as the co-first author.
"I was attracted specifically to Dr. Athreya's work because as an MCB and Psychology major, I hadn't had much exposure to computational methods, yet I was quite interested in genetics/genomics and its relationship with psychiatric disorders," said Wilton. "Dr. Athreya's work, to me, was a new way of studying this relationship and many others in the field of psychiatry, that could directly affect patients in the clinic and address scientific questions at the same time."
After completing her undergraduate work, Wilton was welcomed back to Dr. Athreya's lab and is now a fellow in Mayo Clinic's Graduate Research Experience Program.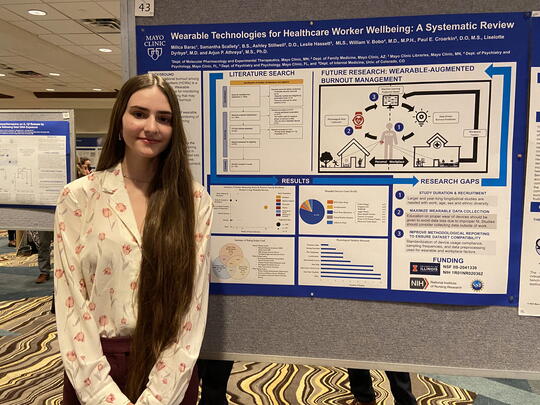 With a passion for digital health, Barac, a 2022 SURF, became part of an ongoing research project in Dr. Athreya's lab looking for biomarkers for mental health. Their work is now being prepared for a publication, with Barac as lead author. 
"What drew me to Dr. Athreya's lab was his innovative work in mental health, and his interest in creating individualized approaches towards preventing negative mental health outcomes," said Barac. "Dr. Athreya's passion for integrating technology into healthcare has inspired me to understand how wearables and big data can be used to develop organizational-level approaches to address important issues like occupational burnout."
Mentee to mentor
"I got lucky as a fellow to have mentors like Drs. Liewei Wang, William Bobo, Rani Kalari, and Richard Weinshilboum who spent hours and days working with me shoulder-to-shoulder. Now, as a mentor, I want to instill that same sense of success if interns put in the effort along with me and my lab. The summer fellowship is all about their goals, and me helping them in their journey," said Dr. Athreya.
Both Wilton and Barac expressed deep gratitude for Dr. Athreya's genuine care and student-first mentorship, encouraging them to build relationships and reach their goals. Though the fellowship began in June, Dr. Athreya began working with the fellows as early as February to learn about their ambitions and design a project specific to their strengths and interests. "When we arrived in Rochester, Dr. Athreya had already put in so much thought into our projects and had connected us with other relevant researchers and physicians," said Barac.
And, their work together has extended beyond the summer fellowship. 
"I think the aspect of Dr. Athreya's mentorship that was most impactful for my future was his ability to challenge and empower me with projects that I could take charge of and guide me through my research progress rather than simply direct me through it," said Wilton. "He puts a lot of trust (along with healthy guidance) in his students, and this I think really helped me to think about my research in a more independent way and begin to generate my own questions."
For more about the Mayo Clinic & Illinois Alliance and the Illinois SURF pre-selection process, visit mayoillinois.org.
Related topics: