Image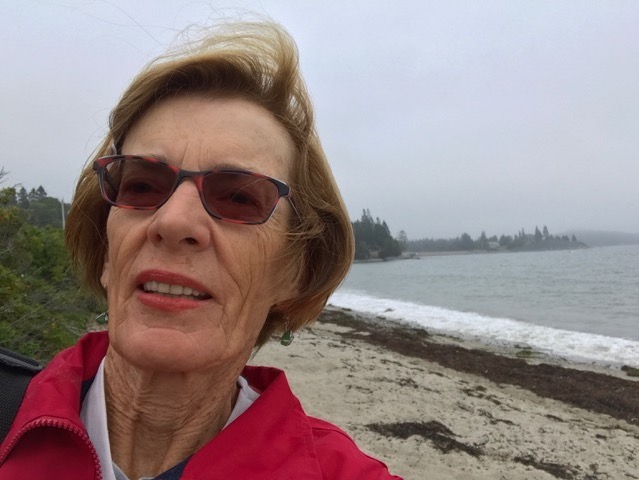 As she viewed the radiograph in Decatur Memorial Hospital's Radiology Department's reading room, Jeanne Bullock Goldberg was fascinated by what she saw: the bones and innermost details of a hand.
It was 1965, and having just graduated from Douglas MacArthur High School, she had applied for a summer job as a file clerk in the X-ray department. At that time, she was informed that an interview with the department's head radiologist, Dr. Richard Kinzer, would be required. Standing by her side, Dr. Kinzer asked her to make a diagnosis.
Trembling slightly and taking a deep breath, she declared, "Broken finger." Indeed, the diagnosis of a fractured phalanx was correct. She was hired.
From an early age, she dreamt of becoming a veterinarian. However, "the phenomenon of visualizing structures inside the human body fascinated me," she said. Dr. Kinzer became her mentor, and, at age 18, Jeanne knew she wanted to become a radiologist.
"The University of Illinois at Urbana-Champaign was the only university on my radar screen. I was aware of its excellent reputation, and my parents were highly supportive of my decision to attend UIUC," she said. Jeanne's parents had been honor students in high school in Mt. Vernon, Illinois, but their college aspirations were crippled by the Great Depression.
When she arrived at UIUC, it was as if the door to the world had opened, she said. She pursued a bachelor's degree in physiology and found it rewarding to work in the laboratory of Dr. James Health, who was head of the Department of Physiology & Biophysics at that time.
"I often reflect on the influence that LAS courses in sociology, philosophy, and foreign languages played in shaping my intellectual curiosity in later years," she said. "They were not just enlightening but indeed transformative."
At Illinois, she was an Edmund J. James, Phi Beta Kappa, and Bronze Tablet Scholar in addition to holding memberships in Phi Kappa Phi and Alpha Lambda Delta.
After graduating from UIUC and earning her M.D. degree from Northwestern University, she completed a residency in diagnostic radiology at the University of Minnesota. As the only woman resident, she found the atmosphere to be collegial and respectful, and she enjoyed the cultural and outdoor opportunities of Minneapolis. An avid cross-country skier, she completed the American Birkebeiner 55 km race.
During her residency, she traveled to New York City to study with Dr. Lucy Frank Squire, an expert in teaching basic radiologic interpretation to medical students. Dr. Squire kindly introduced Dr. Jeanne to the Berkshires and the Lincoln Center for the Performing Arts.
As Dr. Jeanne was completing her residency, her mentor Dr. Kinzer was preparing to retire, and he asked her to take his place in the practice. In the years that followed in Decatur, she married Dr. Edwin Goldberg, an internist, medical director at A. E. Staley Manufacturing Company, and Clinical Professor of Medicine at the University of Illinois School of Medicine. Together, "Dr. Ed" (as her husband was affectionately known) and Dr. Jeanne organized educational sessions for medical students, where she could put some of Dr. Squire's teaching techniques into practice.
During these years, Dr. Jeanne became increasingly aware of mammography's lifesaving potential for women.
"I enjoyed seeing every woman who came to the department for this procedure," she said.
After moving to Florida in the late 1980s, she pursued this interest in mammography by serving on the local and state boards of the American Cancer Society (ACS) and as Chair of the ACS Florida Division Breast Cancer Task Force. Wanting to serve socioeconomically disadvantaged women in her area of Southwest Florida, she set up an ACS project which enabled women to obtain free screening mammograms and follow-up care.
Not wanting to retire, Dr. Jeanne and her husband developed a private nursery of tropical and subtropical fruit trees on their property, and they enjoyed propagating, harvesting, and sharing their produce. They found time to travel extensively in those years. A trip down the Amazon River in a small, rickety boat and a night trip across the Venezuelan Llanos with strangers were only two of several thrilling adventures.
During the 1990s, Dr. Ed and Dr. Jeanne visited the U of I campus on several occasions. On one of these visits, they attended a meeting of the Department of Molecular & Integrative Physiology (MIP). Dr. Albert Feng, department head at that time, was conducting a meeting with faculty members at a large round table.
"We were captivated by Al Feng's huge, friendly smile and the collegial atmosphere," Dr. Jeanne said. She and her husband became friends with Al and other faculty, including Martha and Rhanor Gillette, Benita and John Katzenellenbogen, Philip Best, Byron Kemper, and others.
Impressed by the outcome-driven MIP research projects and the potential afforded by interdisciplinary interactions with the Beckman Institute and the National Center for Supercomputing Applications, the Goldbergs were inspired to support novel, translational and sustainable research by establishing three named chairs: the Benjamin R. and Elinor W. Bullock Endowed Chair in MIP (after Jeanne's parents); the Edwin E. and Jeanne Bullock Goldberg Endowed Chair in Molecular & Cellular  Biology; and the Edwin E. and Jeanne Bullock Goldberg Endowed Chair in Integrative Biology.
She found it rewarding to honor her parents who, though unable to attend college, supported her career plans and promoted intellectual curiosity and a love of learning that she and her brother Ben, a retired professor of meteorology, inherited. Their mother, Elinor, was an avid reader and their father, Ben, a retired banker, had an insatiable curiosity about the universe and the natural world.
After Dr. Edwin Goldberg passed away in 2009, Dr. Jeanne continued her interactions with the Department of MIP, contributing articles for their newsletter and corresponding with Dr. Milan Bagchi and other faculty regarding their research. She also created the Edwin E. and Jeanne Bullock Goldberg LAS Scholarship Fund and the Carle Illinois College of Medicine Scholarship Fund.
In 2017 she established the Benjamin R. and Elinor W. Bullock and Edwin E. and Jeanne Bullock Goldberg Professorial Scholar Fund, with Dan Llano as the recipient. Dr. Llano, associate professor in MIP and the Beckman Institute, and Dr. Feng worked together studying neural processing of complex sounds.
Dr. Jeanne has many interests and is rewarded by sharing them with her life partner, Dr. William (Bill) Pettinger, a world-renowned research scientist in hypertension and retired Professor of Pharmacology and Internal Medicine at the University of Texas Southwestern Medical School. When not tending to the nursery, they participate in the Naples Council on World Affairs, are active members of UUCGN (Unitarian Universalist Congregation of Greater Naples), and write extensively. Dr. Jeanne supports public television and NPR, conservancy organizations, League of Women Voters, and programs in the Center for Inquiry, which advocates for science and critical thinking. She enjoys fishing, kayaking, exploring the U.S. in an RV, and traveling the world with Dr. Bill, from the Balkans to Patagonia.
"I am confident that my commitment to promotion of quality research and opportunities for promising students at the University of Illinois Urbana-Champaign will endure for the remainder of my life," she said.
Related topics: