Image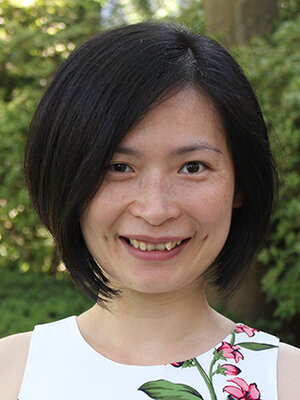 Meet Yejing Ge, PhD '12, now a professor at MD Anderson Cancer Center in Texas
Tell us about your current position and what research questions are you and your students investigating.
I am an assistant professor at MD Anderson Cancer Center. We study the molecular mechanisms underlying stem cell plasticity in skin wound repair, cancer, and aging. In mammals, adult stem cells are essential units to orchestrate postnatal remodeling and repair damage. In contrast to steady state, stem cells in coping with stress often expand their fates and embark on behaviors distinct from their homeostatic patterns, known as plasticity. While plasticity is essential for organismal survival, its derailed regulation poses disease vulnerability to individuals. In the Ge lab, we apply development biology principles, mouse genetics and functional genomic approaches to dissect stem cell plasticity, in the goal of bridging human skin diseases with gene functions and advancing disease treatments.
What led you to the U of I and specifically the CDB dept?
I was deeply drawn to the beauty of cell and development biology when I was an undergrad at Tsinghua University, China. During my undergrad thesis research, I learned from both my mentors and senior students in my department about U of I, and specifically the exciting and strong research in CDB. Hence here I was. I still recall the immerse joy and sleepless nights after receiving an offer to pursue my PhD at CDB at the School of MCB.
Tell us about the lab and research you conducted while here.
I studied this protein kinase known as mTOR, mammalian (mechanistic) target of rapamycin, and how it regulates skeletal myogenesis. mTOR is known as a master regulator of cell growth and metabolism, yet its role in skeletal muscle development and differentiation remained unclear. During my graduate work, we found surprisingly, mTOR governs skeletal myogenesis both in a kinase-dependent and kinase-independent fashion. mTOR does so by orchestrating a network of signaling transduction events including the post-transcriptional gene regulations via microRNAs.
How did your advisor or time in the dept have an impact on your life and career? Or, favorite memory of your time at UIUC?
My PhD advisor was Dr. Jie Chen. Jie is a role model for me in both personal life and academic career – her kindness, creativity, and fearlessness. Since then, even my hair cut is a copy of hers. The Chen lab and CDB has provided me with an extremely supportive and stimulating environment and has over the years taught me many tools to pursue my passion. One of my favorite memories at UIUC is Green Street, with the fabulous restaurants, shops, and the vibrant community.
What's your advice for new graduate students or graduating PhD students?
Be persistent with your passion. Enjoy being a student and be inquisitive, bold, and rigorous. 
What do you like to do for fun outside of work and the lab?
Travel, swim, happy hour with students, colleagues, family, and friends.