Image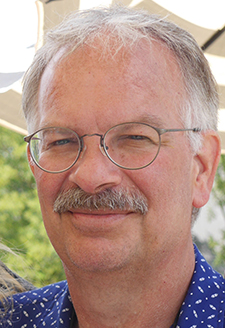 Dr. Craig Mizzen, Associate Professor of Cell and Developmental Biology, passed away at his home on January 5, 2018, after a long and heroic battle with cancer. He was 61.
Trained and collaborated with David Allis – a pioneer of the histone code, Craig was an exceptionally talented biochemist who tackled fundamental questions in epigenetic regulation. He joined the Department of Cell and Developmental Biology in 2002 as an assistant professor, and established a successful research program studying the roles and mechanisms of histone modifications in the regulation of chromatin structure and gene expression. Craig's deep passion for science, especially for the beauty of biochemical approaches, and his broad knowledge base earned him respect and admiration from his colleagues, students, and collaborators.
An eternal optimist, Craig always believed the next big scientific discovery was right around the corner in his lab. He faced his illness with the same conviction and scientific approach, and beat the odds of his prognosis by overcoming cancer time and again until the last battle, all while maintaining his research program, training graduate students, and serving the department. He will be greatly missed as a colleague, mentor, and friend.
Craig is survived by his wife Dr. Lyne Levesque and their three young children.
Read the obituary in the News Gazette.
In lieu of other expressions of sympathy, donations to the American or Canadian Cancer Society would be appreciated by the family. A visitation to celebrate Craig's life will be held on Saturday, Jan. 13, 2018 from 2 until 5 p.m. at Morgan Memorial Home, 1304 Regency Drive West in Savoy.
Related topics: