Image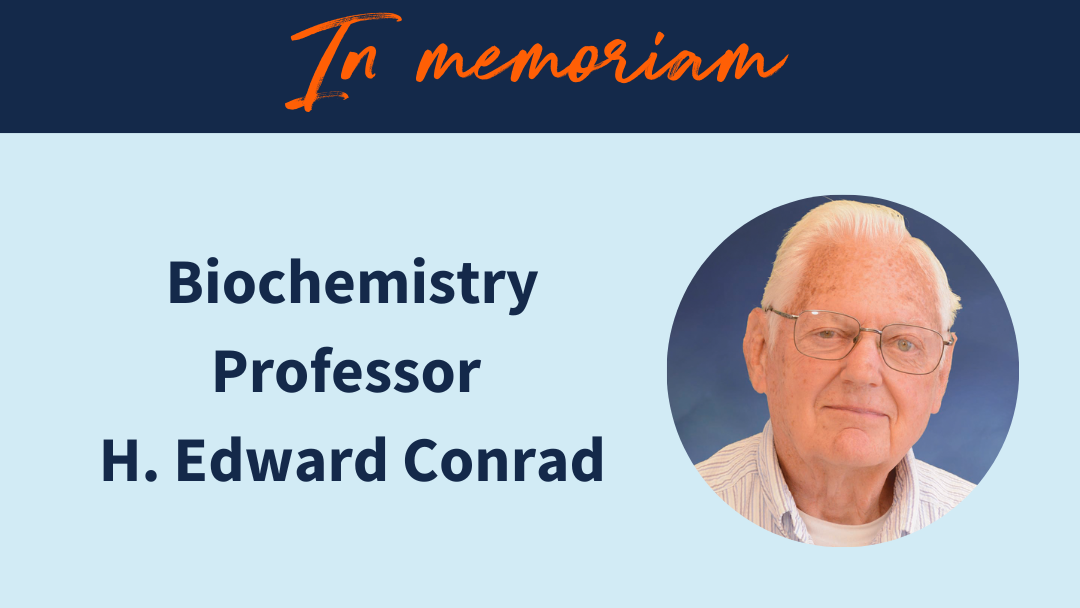 With great sadness, the Department of Biochemistry and School of Molecular & Cellular Biology announce the passing of professor Emeritus H. Edward Conrad, 94, on May 23, 2023, in Urbana.
Professor Conrad had a long and storied career as a biochemistry faculty at the University of Illinois Urbana-Champaign. He was renowned for his work in carbohydrate chemistry, and especially for his studies of heparin, which is used to treat heart, lung, and blood vessel conditions. His book, Heparin-Binding Proteins, is an authoritative work on the subject.
"Ed cared deeply about the department but he cared even more for the people in the department. He routinely would engage with students and with junior faculty to offer advice, wisdom, and a good laugh," said Satish Nair, Gregorio Weber Chair and head of the Department of Biochemistry.
Dr. Conrad completed his undergraduate studies at Louisiana State University and his doctoral degree at Purdue University. After working in industry (Mead Johnson & Company and the U.S. Army Medical Nutrition Laboratory), he moved to Urbana, where in 1962 he began as an assistant professor in the Department of Biochemistry. He was promoted to associate professor in 1968 and then to the rank of professor in 1972. In 1989, he was named a Jubilee Professor of Biochemistry. The pharmaceutical company Glycomed recruited him to become its director of biochemistry however after four years he returned to Champaign-Urbana.
In 1994, Dr. Conrad was honored by students and friends with a symposium as a tribute to his many scientific achievements and to his career of mentoring students and scientists. In 2022, colleagues and former students established the H. Edward Conrad Summer Fellowship in his honor.
Following his wishes, a private family memorial service will be held. 
Related topics: