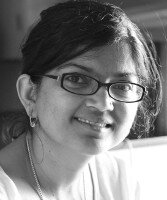 Contact Information
453 Medical School Building
Associate Professor of Molecular & Integrative Physiology
Research Interests
Endocrinology, Metabolic Regulation, Regulation of Gene Expression
Research Description
Liver metabolism in normal and diseased state
My laboratory will focus on understanding liver metabolism in normal and diseased state. Our goal is to investigate how bile acids and nuclear receptors maintain metabolic homeostasis, and contribute to liver diseases, including cancer using cell-based systems and genetically engineered mouse models.
Liver is a major organ that regulates metabolism of triglycerides, cholesterol, glucose, amino acids, heme, xenobiotics and many more substances. One of the salient features of the liver is to make bile! Bile acids are amphiphilic detergents synthesized in liver to facilitate absorption of dietary lipids. Biliary homeostasis is critical and defects/dysfunctions in this pathway lead to several liver diseases including liver cancer.
Nuclear receptor signaling regulates biliary homeostasis.
Bile acid concentrations are tightly maintained through a negative feedback mechanisms coordinated chiefly by nuclear receptors, Farnesoid X Receptor (FXR) and Small Heterodimer Partner (SHP). We generated global FXR; SHP double knockout (DKO) mice to understand the consequence of biliary overload. These DKO mice have chronically elevated bile acids and mimic pediatric cholestasis.
We next want to examine the tissue specific role for FXR and SHP. Is the coordinate role of FXR and SHP observed in liver maintained in other tissues as well? How does tissue specific loss of these two receptors affect synthesis, transport and recirculation of bile acids?
Nuclear receptor signaling regulates adipogenesis
Obesity and diabetes have emerged as major epidemics of the 21st century. More than 100 genes have now been identified for their role in regulating body fat. These genes are controlled by multiple signals, including nuclear receptors and bile acids (BAs).
Our findings indicate that elevated BAs protect against obesity. It is fascinating that naïve mice on a BA enriched diet as well as DKO mice, which have elevated BAs, exhibit decreased visceral fat without any difference in food intake. We want to understand how BAs and nuclear receptors, especially FXR and SHP, regulate this beneficial effect. Do they burn more fat? Are they more active? Do they have defective adipogenesis?
Bile acids signal to Hippo pathway and cause hepatocellular carcinoma (HCC)
HCC is the fifth most common malignancy and results in 500,000 deaths annually. The underlying molecular events leading to HCC are still being evaluated and no targeted drug therapy currently exists for HCC.
Hippo signaling has been recently identified as a regulator of organ size and as a critical contributing factor to the development of spontaneous HCC. Bile acids are known to promote liver tumors and we recently identified BAs as regulators of hippo pathway. Consistent with this, the DKO mice, which have excess amounts of BAs develop rigorous and spontaneous HCC. We are excited to examine the importance of BA mediated YAP activation in liver tumorigenesis. How do BAs signal to the hippo pathway? Is it direct or mediated via other signaling proteins? Is there any nuclear receptor involved in this process?
Overall, these projects will broaden our understanding of bile acid signaling and nuclear receptor-mediated pathways necessary in the maintenance of energy balance, regulation of hepatic metabolism, and protection from tumorigenesis.
Education
Bachelors in Pharmacy, Birla Institute of Technology & Sciences, Pilani, India
MSc, Birla Institute of Technology & Sciences, Pilani, India (Biological Sciences)
Ph.D., University of Texas, Graduate School of Biomedical Sciences at Houston (Biochemistry)
Postdoctoral Fellow, Baylor College of Medicine, Houston
Awards and Honors
2020 - Listed in "Teachers Ranked as Excellent"
2016 - Outstanding Advisor Award, Medical Scholars Program, UIUC, IL
Additional Campus Affiliations
Highlighted Publications
Representative Publications
Mathur B, Shahjahan A, Arif W, Chen Q, Hand NJ, Abramowitz LK, Schoonjans K, Rader DJ, Kalsotra A, Hanover JA, Parastoo A, Anakk S. (2021) Nuclear receptors FXR and SHP regulate protein N-glycan modifications in the liver. 
Science Advances. 21 Apr 2021; 7 : Eabf4865.
• Featured as a cover article 
Nguyen JT, Riessen RR, Zhang T, Kieffer C, Anakk S. (2021) Deletion of intestinal SHP impairs short-term response to cholic acid challenge in male mice. Endocrinology. Mar 26:bqab063.
Delgado ER*, Erickson HL*, Tao J, Monga SP, Duncan AW#, Anakk S#. (2021). Scaffolding protein IQGAP1 is dispensable, but its overexpression promotes hepatocellular carcinoma via YAP1 signaling. Mol Cell Biol. Mar 24;41(4):e00596-20.
*denotes equal authors; #denotes co-corresponding authors 
• Featured as the spotlight article 
• Featured as the cover article 
Anakk S, Dean AE. (2020) Fxr-alpha Skips Alternatively in Liver Metabolism. Gastroenterology. Nov;159(5):1655-1657. 
Mathur B, Arif W, Patton M, Faiyaz R, Liu J, Yeh J, Harpavat S, Schoonjans K, Kalsotra A, Wheatley A, Anakk S. (2020) Transcriptomic analysis across liver diseases reveals disease-modulating activation of constitutive androstane receptor in cholestasis. J Hep Reports. DOI:https://doi.org/10.1016/j.jhepr.2020.100140
Farr S, Stankovic B, Hoffman S, Masoudpoor H, Baker C, Taher J, Dean AE, Anakk S, Adeli K. (2020) Bile acid treatment and FXR agonism lower postprandial lipemia in mice. Am J Physiol Gastrointest Liver Physiol. 318(4):G682-G693. 
Pepe-Mooney BJ, Dill MT, Alemany A, Ordovas-Montanes J, Matsushita Y, Rao A, Sen A, Miyazaki M, Anakk S, Dawson PA, Ono N, Shalek AK, van Oudenaarden A, Camargo FD. (2019) Single-Cell Analysis of the Liver Epithelium Reveals Dynamic Heterogeneity and an Essential Role for YAP in Homeostasis and Regeneration.Cell Stem Cell 3; 25(1):23-38.
Shahoei SH, Kim YC, Cler SJ, Ma L, Anakk S, Kemper JK, Nelson ER. (2019) Small Heterodimer Partner Regulates Dichotomous T Cell Expansion by Macrophages. Endocrinology 160(7):1573-1589.
Erickson HL, Anakk S. (2018) Identification of IQ motif-containing GTPase Activating Protein 1 as a regulator of long-term ketosis. JCI Insight 3(21):e99866.
Bangru S, Arif W, Seimetz J, Bhate A, Chen J, Rashan EH, Carstens RP, Anakk S, and Kalsotra A. (2018) Alternative splicing rewires Hippo signaling pathway in hepatocytes to promote liver regeneration. Nature Struct. Mol. Biol. Oct 1; 25(10):928-939.
Akinrotimi O, Riessen R, VanDuyne P, Park JE, Lee YK, Wong LJ, Zavacki AM, Schoonjans K, Anakk S. (2017) Shp deletion prevents hepatic steatosis and when combined with Fxr loss protects against type 2 diabetes. Hepatology doi: 10.1002/hep.29305.
Kim KH, Choi S, Zhou Y, Kim EY, Lee JM, Saha PK, Anakk S, Moore DD. (2017) Hepatic FXR/SHP axis modulates systemic glucose and fatty acid homeostasis in aged mice. Hepatology doi: 10.1002/hep.29199.
Desai MS, Mathur B, Eblimit Z, Vasquez H, Taegtmeyer H, Karpen SJ, Penny DJ, Moore DD, Anakk S. (2017) Bile acid excess induces cardiomyopathy and metabolic dysfunctions in the heart. Hepatology 65(1):189-201. doi: 10.1002/hep.28890
Bhate A, Parker DJ, Bebee TW, Ahn J, Arif W, Rashan EH, Chorghade S, Chau A, Lee JH, Anakk S, Carstens RP, Xiao X, Kalsotra A. (2015) ESRP2 controls an adult splicing programme in hepatocytes to support postnatal liver maturation. Nature Commun. 6:8768. doi: 10.1038/ncomms9768.
Chow EC, Magomedova L, Quach HP, Patel RH, Durk MR, Fan J, Maeng HJ, Irondi K, Anakk S, Moore DD, Cummins CL, Pang KS. (2014) Vitamin D Receptor Activation Down-regulates Small Heterodimer Partner and Increases CYP7A1 to Lower Cholesterol. Gastroenterology 146(4):1048-59. doi: 10.1053/j.gastro.2013.12.027.
Anakk S*, Bhosale M, Schmidt VA, Johnson RL, Finegold MJ, Moore DD*. (2013) Bile Acids Activate YAP to Promote Liver Carcinogenesis. Cell Reports 5(4):1060-9. *corresponding author
Anakk S, Watanabe M, Ochsner SA, McKenna NJ, Finegold MJ and Moore DD. (2011) Combined deletion of FXR and SHP results in juvenile onset cholestasis and induction of Cyp17A1. Journal of Clinical Investigation 121(1):86-95.
Book Chapters
Anakk S. (2008). HIV case #5 in Casefiles: Biochemistry. E Toy, W Seifert Jr., HW Strobel and K Harms (eds), LANGE SERIES 2nd edition by Mcgraw-Hill UK, 41-49.
Anakk S. (2008). Beta Thalassaemia case #12 in Casefiles: Biochemistry. E Toy, W Seifert Jr., HW Strobel and K Harms (eds), LANGE SERIES 2nd edition by Mcgraw-Hill UK,103-110.
Recent Publications
Arif, W., Mathur, B., Saikali, M. F., Chembazhi, U. V., Toohill, K., Song, Y. J., Hao, Q., Karimi, S., Blue, S. M., Yee, B. A., Van Nostrand, E. L., Bangru, S., Guzman, G., Yeo, G. W., Prasanth, K. V., Anakk, S., Cummins, C. L., & Kalsotra, A. (2023). Splicing factor SRSF1 deficiency in the liver triggers NASH-like pathology and cell death. Nature communications, 14(1), Article 551. https://doi.org/10.1038/s41467-023-35932-3
Sen, A., Youssef, S., Wendt, K., & Anakk, S. (2023). Depletion of IQ motif-containing GTPase activating protein 2 (IQGAP2) reduces hepatic glycogen and impairs insulin signaling. Journal of Biological Chemistry, 299(11), Article 105322. https://doi.org/10.1016/j.jbc.2023.105322
Zhou, W., VanDuyne, P., Zhang, C., Liu, Y., Riessen, R., Barragan, M., Rowitz, B. M., Teran-Garcia, M., Boppart, S. A., & Anakk, S. (2023). Pathological bile acid concentrations in chronic cholestasis cause adipose mitochondrial defects. JHEP Reports, 5(5), Article 100714. https://doi.org/10.1016/j.jhepr.2023.100714
Nguyen, J. T., Shaw, R. P. H., & Anakk, S. (2022). Bile Acids-A Peek into Their History and Signaling. Endocrinology (United States), 163(11), Article bqac155. https://doi.org/10.1210/endocr/bqac155
Sen, A., Goforth, M., Cooper, K. K., & Anakk, S. (2022). Deletion of Constitutive Androstane Receptor Led to Intestinal Alterations and Increased Imidacloprid in Murine Liver. Journal of the Endocrine Society, 6(12), Article bvac145. https://doi.org/10.1210/jendso/bvac145