Image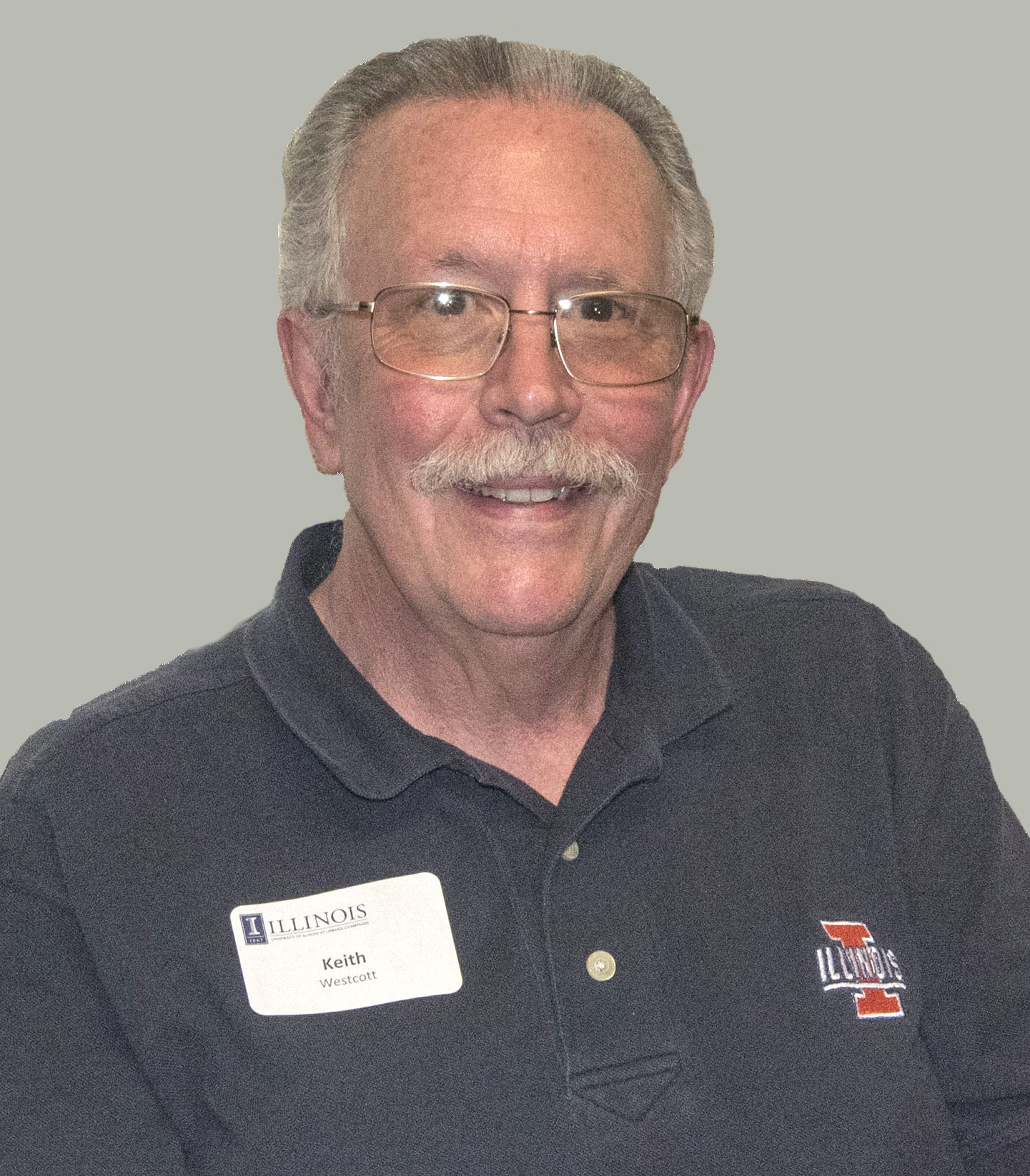 Since 1975, Keith Westcott has felt at home at the University of Illinois, and with science.
Westcott grew up in New Jersey, where his father was a biochemist for a pharmaceutical company and his mother a librarian for the Atomic Energy Commission. Science was in his blood, so to speak.
After his father took a new job in Kankakee, Illinois, while Westcott was in high school, he set his sights on attending the University of Illinois, but he wasn't chosen for a spot in a lottery required to enter a liberal arts and sciences field back in the 1970s during the Vietnam War. So, Westcott attended the University of California Berkeley, where he thought about becoming a physician.
Once again being met with a roadblock, Westcott found the biology course he needed was full, so he majored in chemistry instead and eventually made his way toward the best of both worlds — biochemistry.
With a bachelor's degree in hand, Westcott was ready to move on from the volatile Berkeley campus of the era and had enjoyed visits to the Champaign-Urbana campus over the years to see friends. Upon applying this time, he got in, culminating in a doctorate in biochemistry in 1980.
During those years, Westcott noticed that his peers in graduate school and the faculty that advised them were more than colleagues and students. There was a collegiality amongst faculty and students throughout the department that changed how Westcott viewed a job in a laboratory.
"Lowell Hager was department head at the time, and he used to encourage all of the students, no matter who their major professor was, to interact with the rest of the professors," Westcott said. "It was a good social group, and he was always getting up in front of us and saying that you should be working hard at doing your science, but it should be fun at the same time."
Scientists shared instruments and grad students asked questions of everyone, he said. It was the sort of environment Westcott sought out when he left school and completed his postdoctoral work. After a brief stint at Alpha Therapeutics in Los Angeles, Westcott found his fit at Amgen in 1986, which at the time was a small startup biotechnology company.
"That sort of environment at Illinois resonated with me, and that's what it was like at Amgen in the early days," he said. "I drew a lot of parallels and strength from that."
Westcott was a protein chemist at Amgen, which grew to become one of the largest biotechnology firms in the world. But early on when Westcott was there, he crowded in with other scientists at work benches.
During those years, Westcott didn't work on a product that went to market, but he was part of a collaborative team and said he's most proud that he helped build up the protein chemistry group. He went from one supportive family to the next.
Since he was paid partially in stock options when the company was small, Westcott was able to retire early in 1999 when the company was in the midst of rapid growth.
Westcott took courses in financial management to take care of his own assets and to help family. Besides his own financial well-being, Westcott wanted to ensure he invested in ways that would allow him to give back to those who had given him so much, including the University of Illinois.
"I specifically attribute my graduate training in biochemistry at Illinois to my financial well-being and the fact that I was able to spend time in the biotech pharmaceutical industry in the early days," Westcott said.
Over the years, Westcott has come back to Illinois to teach six-week courses in biochemistry and gives seminars on working in the pharmaceutical industry to incoming students. His donations have supported several fellowships for graduate students in biochemistry, and Westcott makes it a point when he visits campus to meet with those students.
Westcott is also a voting member of the University of Illinois Foundation. In 2010 he received the LAS Distinguished Service Award and in 2013 the Loyalty Award for Exceptional Alumni Service.
Though he left the University of Illinois as a student long ago, Westcott said that one thing hasn't changed. He still feels like family, and that keeps him coming back.
"It allows me to feel I'm still part of the overall research effort even though I'm not working in a laboratory anymore myself," he said. "The fact that everyone's been so welcoming and encouraging, I appreciate that."
Westcott said he is proud of the Department of Biochemistry today because it has kept a culture of inclusivity, a trait he attributes to the leadership of Department Head Susan Martinis.
"It is particularly good that Susan Martinis is a graduate of the Biochemistry Department herself. She was a few years behind me, but in many ways we shared the same experiences," Westcott said. "She is working to make sure that the department feels like family. It has a bright future under her leadership."
Related topics: