Image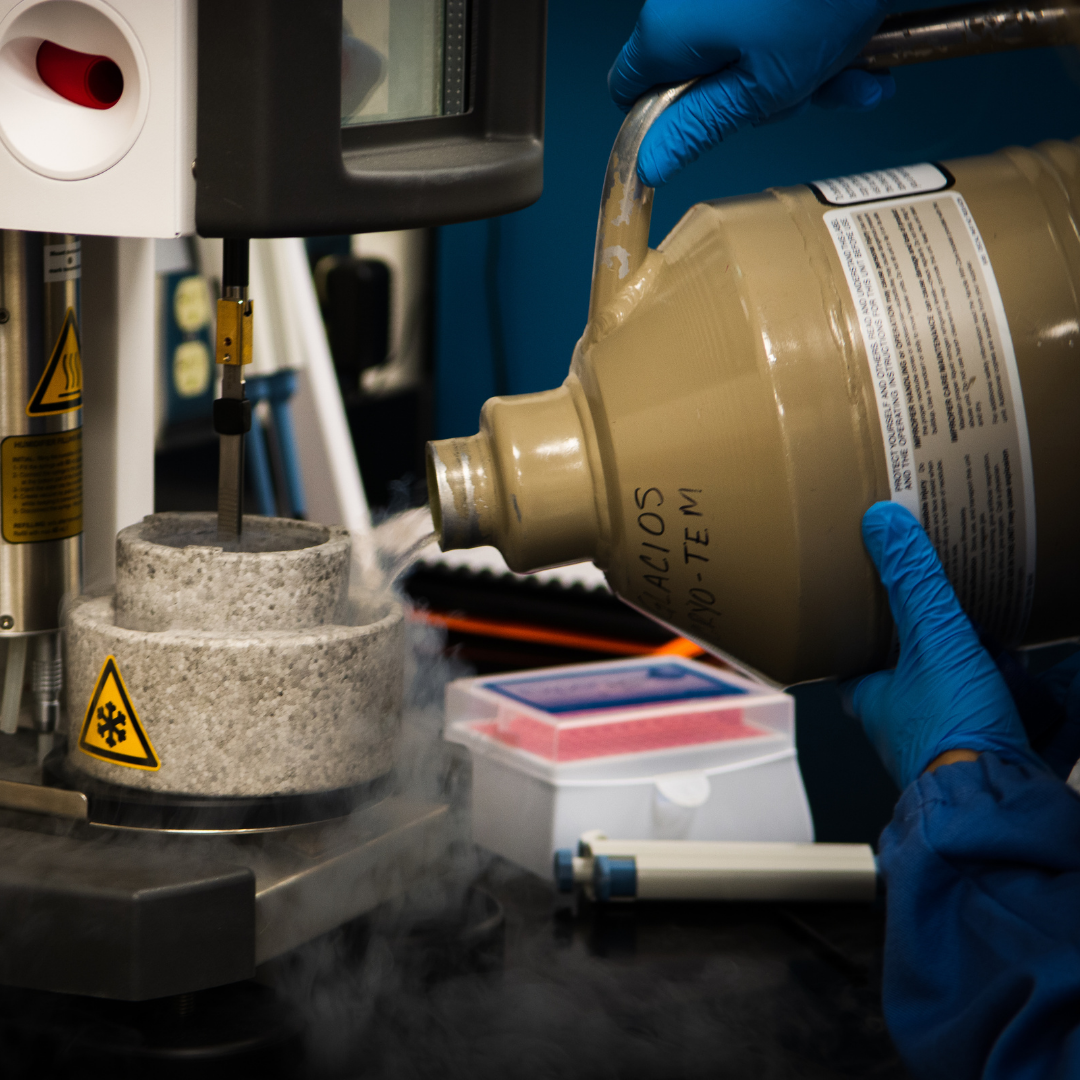 You've probably heard the saying, "a picture is worth a thousand words."
Thanks to the installation of a cryogenic electron microscope at the University of Illinois, researchers are exploring what was once hidden or difficult to study at the molecular level.
While the cryogenic electron microscope (cryoEM) has given Illinois researchers the ability to view individual carbon atoms at a highly magnified level, Satish Nair is stepping back to look at the bigger picture.
An earlier version of the technology was first developed in the 1970s, "but what's happened over the last decade or so is that there's been a massive sea change, both in instrumentation and in algorithms to calculate data from instrumentation. That has allowed the use of this instrument to visualize molecules at the level of individual carbon atoms," said Nair, Gregorio Weber Chair and head of the Department of Biochemistry. He and Dr. Mauro Sardela are co-directors of the Macromolecular CryoEM and MicroED facility.
The Nobel Prize in Chemistry was awarded in 2017 to Jacques Dubochet (University of Lausanne, Switzerland), Joachim Frank (Columbia University, New York), and Richard Henderson (MRC Laboratory of Molecular Biology, Cambridge, UK) for the development of cryoEM. The technique allowed researchers to freeze biomolecules in mid-motion, which has given them the ability to visualize processes they've never been able to capture before. By rapidly cooling and solidifying water around biological samples, the biomolecules were able to maintain their natural shapes even under an electron microscope, giving scientists three-dimensional structures to study. CryoEM has since been used to study proteins that cause antibiotic resistance, the Zika virus and most recently, the structure of a coronavirus spike.
Installation of this revolutionary microscope at Illinois required several years of planning and collaboration among units on campus. Led by Nair, Dr. Milan Bagchi, and the School of Molecular & Cellular Biology, the university obtained funding from MCB ($750K) and the National Institutes of Health ($1.4M), along with additional campus funding ($750K). Other contributing partners included the Carle Illinois College of Medicine, School of Chemical Sciences, and Grainger College of Engineering. After MCB Information Technology director Jeffrey Haas was able to procure highly sought-after graphic processing chips, the microscope was installed in the Materials Research Laboratory in Summer 2021.
"If not for COVID, we would have had a nice champagne celebration," Nair admitted. "But we'll do that soon enough."
Scientists at the University of Illinois didn't wait for an inaugural ceremony to begin working with the new microscope and getting results.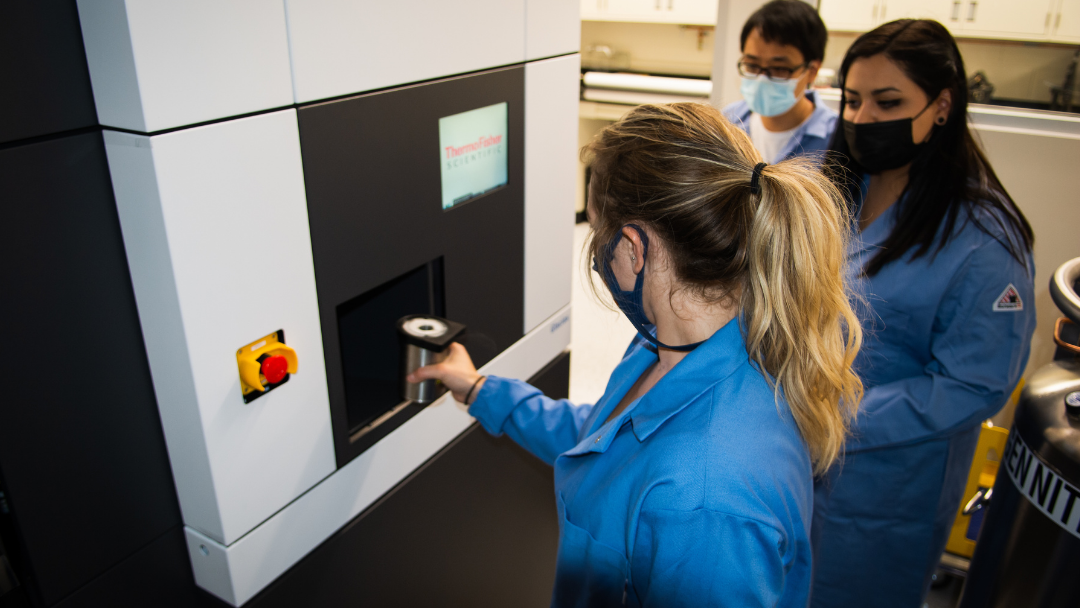 Nair Lab graduate student Andrea Hernandez Garcia is researching structural studies of a 100 kilo Dalton multi-domain protein involved in the production of a lanthipeptide antibiotic. CryoEM is facilitating her understanding of how this protein moves and adopts different conformations depending on its biosynthetic stage.
"It's thesis-changing for me," she said. "I'm going to be able to observe actual movement. It's not static. We can get so much more information and understanding."
Hernandez Garcia is not the only scientist making inroads on her research through cryoEM.
Hong Jin, an associate professor of biochemistry, has been able to study protein synthesis in the ribosome under the cryoEM, Nair said. In the Department of Molecular & Integrative Physiology, professor and head Claudio Grosman's lab is studying the relationship between the structure and function of neurotransmitter-gated ion channels.
"In particular, we work on the subset of receptors that mediate the actions of nicotine, anesthetics, alcohol, and anti-anxiety medicines," Grosman explained. "We want to understand how the binding of molecules to the extracellular domain of these transmembrane proteins opens a pathway through the membrane for ions to flow."
Through the use of cryoEM, his lab has produced images of proteins called cholinergic receptors.
Likewise, "the head of Cell and Developmental Biology, Supriya Prasanth, has been working for many years on a molecule that's involved in DNA replication. This molecule is very large and so probably not useful for [x-ray] crystallography," Nair explained, referring to the process of growing crystals inside molecules in order to visualize small molecules. "But now, she can visualize the structure of the molecule using cryo electron microscopy."
"It's gotten to the point where non-specialists, people that would never in a million years think about using visualization tools, can just walk into the Materials Research Laboratory, hand their sample off to the folks and say, can we work on this together? And if all goes well, in a short time, they can get back highly magnified images of their sample," Nair said.
"A lot of people don't know that they need it until I tell them," said Kristen Flatt (BS, '13, MCB; PhD, '19, neuroscience), an MRL Facilities Research Scientist. "I have students who have been struggling on their crystallography projects for years and then they come in here and see a diffraction pattern, and it's so rewarding."
"It's making more and more people outside of the field become insiders, and that's exactly what we want," Nair enthused. "We want to convert people, to make believers out of them."
Related topics: