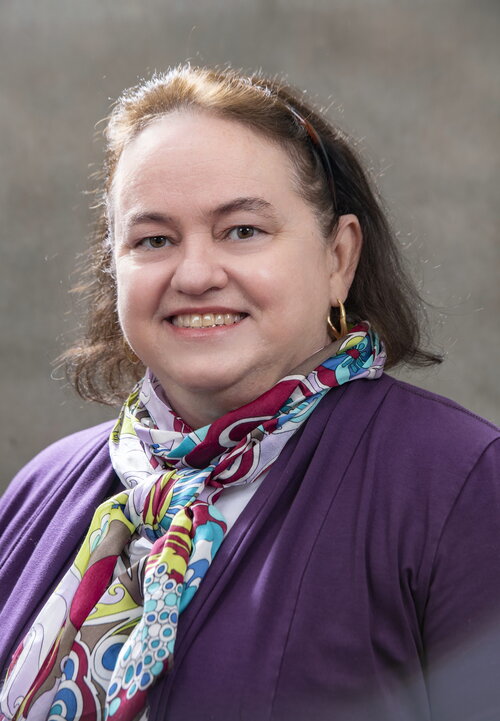 Contact Information
B128 CLSL, MC-110
601 S. Goodwin Ave.
Urbana, IL 61801


Professor of Microbiology, Associate Director for MCB Undergraduate Education
Research Interests
Research Topics
Enzymology, Genomics, Host-Pathogen Interactions, Microbial Ecology, Signal Transduction, Toxins
Disease Research Interests
Drug Discovery, Infectious Diseases, Neurological and Behavioral Disorders, Reproductive Diseases, Infertility, and Menopause
Research Description
Bacterial protein toxins, their interaction with host cells, their effects on intracellular signal transduction, and development of novel alternative anti-toxin therapeutics; human and nonhuman primate vaginal and gut microbial ecosystems (microbiomes) and their role in health and disease
Research in the Wilson laboratory involves studying the molecular interactions and biochemical mechanisms by which protein toxins produced by pathogenic bacteria cause their toxic effects on animal cells. When the bacterial toxins are released into the media of the host, they can interact with or even enter host cells and interfere with normal signal transduction and physiological function, thereby disrupting the delicate balance of cellular metabolism, often lethally. One project involves studying the structure, function and pathogenic mechanisms of the potent dermonecrotic toxins produced by Pasteurella multocida, Bordetella sp., E. coli, and Yersinia. Like many other toxins, these toxins are currently being used as potent tools for studying signal transduction pathways and physiological processes within cells. The laboratory is interested in understanding the underlying mechanism of how these toxins carry out their effects on these processes. For example, the laboratory has discovered that the pleiotropic effects on different tissue cells caused by the toxin from P. multocida is due to the diverse roles that the toxin's targets have in different cell types, which in turn influence the cellular and organismic outcomes of toxin action. Research efforts for this project include: (1) defining the cellular binding and uptake mechanisms that mediate toxin entry into host cell cytosol and translocation across vesicular membranes into the cytosol; (2) characterizing the determinants involved in intoxication and identifying additional toxin features that dictate differential intracellular trafficking among the PMT-CNF family members; and (3) screening and testing for functional activity additional putative CNF- and PMT-like domains found in a large number of bacterial genomes.
Image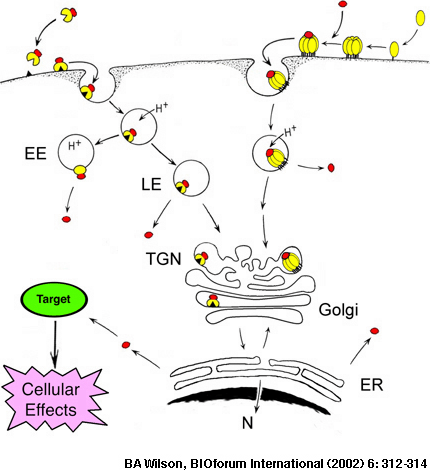 Of particular interest to the Wilson laboratory is translational biomedical research aimed at development of post-exposure anti-toxin therapeutics and development of toxin-based cargo-delivery platforms. This requires a global understanding of the downstream metabolic and signaling pathways that are affected by toxins, so as to identify potential sites for intervention. The Wilson lab has proteomic and metabolomic research projects to identify biomarkers of cellular toxicity (i.e. toxicogenomics). The Wilson lab is developing novel post-exposure anti-toxin therapeutics against botulinum neurotoxins as well as highly sensitive, high-throughput detection assays for distinguishing among botulinum neurotoxins. There is currently no effective antidote for preventing or reversing botulism or paralysis once exposure has occurred and symptoms of disease have initiated. A major goal of this translational biomedical research is to design novel anti-toxins for neuronal cell-specific delivery of post-exposure therapeutics. Another activity involves using toxins as cargo-delivery platforms for bacterial toxin-inspired drug delivery (BTIDD), particularly for cell-specific delivery of post-exposure therapeutics. We have designed and developed a prototype delivery platform. We are continuing to develop our inhibitor-cargo delivery vehicles, optimizing the delivery and cargo-release mechanism. Dr. Wilson is also engaged in collaborative translational research to exploit comparative and functional genomic technologies to study the dynamic interactions between the host and its commensal as well as pathogenic microbes, i.e. the microbial ecology in the host environment (microbiomes). This research focuses on the complex ecosystem of the vaginal and gut microbiota and their impact on health and disease in human and nonhuman primates. A central goal is to elucidate pathogenic mechanisms of vaginal infections such as bacterial vaginosis and the role of normal and abnormal microbiota in disease susceptibility and progression. Studying both human and nonhuman primate vaginal ecosystems has the potential to address human biomedical questions by establishing an evolutionary and comparative biology context that considers environments, microbes, and host immune systems.
Education
B.A. (Biochemistry and German), Barnard College/Columbia University, 1981
Deutscher Akademischer Austauschdienst, Ludwig-Maximilians Universität, Munich, Germany, Diplomarbeit 1981-1982
Ph.D. (Chemistry), Johns Hopkins University, 1989
Postdoctoral (Microbiology and Molecular Genetics), Harvard Medical School, 1989-1993
Awards and Honors
2020 American Academy of Microbiology Fellow, American Society for Microbiology
2019 Sandia-UIUC Faculty Fellow, Office of the Vice Chancellor for Research and Innovation
2018 MCB Teaching Excellence Award
2018 AAUW-CU Marion Talbot Award
2017 Dr. Larine Y. Cowen Leadership in Diversity Award (see video)
2015 YWCA Leadership in Science, Technology, Engineering and Mathematics Award
Additional Campus Affiliations
Professor, Microbiology
Associate Director for Undergraduate Education, School of Molecular and Cellular Biology
Senior Faculty Fellow, Office of the Vice Chancellor for Research and Innovation
Scientific Co-Director, College of Veterinary Medicine
Professor, Pathobiology
Professor, Biomedical and Translational Sciences
Professor, Beckman Institute for Advanced Science and Technology
Professor, Center for Global Studies
Highlighted Publications
Representative Publications
Haywood EE, Handy NB, Lopez JW, Ho M, Wilson BA* "Insertion-trigger residues differentially modulate endosomal escape by cytotoxic necrotizing factor toxins" J Biol Chem (2021), 297(5):101347. doi: 10.1016/j.jbc.2021.101347 [PMID: 34715130]
Ho M*, Moon D, Pires-Alves M, Thornton PD, McFarlin BL, Wilson BA* "Recovery of microbial community profile information hidden in chimeric sequence reads" Computational and Structural Biotechnology Journal (2021) 19:5126-5139 [PMID: 3458988, PMCID: PMC8453192]
Peng Z, Wang X, Zhou R, Chen H, Wilson BA*, Wu B* "Pasteurella multocida: genotypes and genomics" Microbiol Mol Biol Reviews (2019) 83:e00014-19 [free text: doi.org/10.1128/MMRE.00014-19] [*co-senior authors]
Zeng X, Chi X, Ho BT, Moon D, Lambert C, Hall R, Baybayan P, Wang S, Wilson BA*, Ho M* "Comparative genome analysis of an extensively drug-resistant isolate of avian sequence type 167 Escherichia coli strain Sanji with novel in silico serotype O89b:H9" mSystems (2019) 4:e00242-18 [*co-senior authors] [PMCID: PMC6392093]
Haywood EE; Ho M; Wilson BA "Modular domain swapping among the bacterial cytotoxic necrotizing factor (CNF) family for efficient cargo delivery into mammalian cells" J Biol Chem (2018) 293(10):3860-3870 [PMID: 29371399]
Ho M; Mettouchi A; Wilson BA*, Lemichez E* "CNF1-like deamidase domains: common Lego bricks among cancer-promoting immunomodulatory bacterial virulence factors" FEMS Pathogens and Disease (2018), May 3. doi: 10.1093/femspd/fty045.(*co-senior authors) [PMID: 29733372]
Clemons NC; Bannai Y; Haywood EE; Xu Y; Buschbach JD; Ho M; Wilson BA "Cytosolic delivery of multi-domain cargos by the N-terminus of Pasteurella multocida toxin" Infect Immun (2018) 86(8): e00248-18 [PMID: 29784857]
Hisao GS; Brothers MC; Ho M; Wilson BA; Rienstra CM "The membrane localization domain of two distinct bacterial toxins form a 4-helix-bundle in solution" Protein Science (2017) 26(3):497-504 [PMID: 27977897]
Clemons NC; Luo S; Ho M; Wilson BA "Selective membrane redistribution and depletion of Gaq-protein by Pasteurella multocida toxin" Toxins (2016) 8(8): pii: E233 [PMID: 27490568]
Gomez A; Petrzelkova KJ; Burns MB; Yeoman CJ; Amato KR; Vlckova K; Modry D; Todd A; Jost Robinson CA; Remis MJ; Torralba MG; Morton E; Umaña JD; Carbonero F; Gaskins HR; Nelson KE; Wilson BA; Stumpf RM; White BA; Leigh SR; Blekhman R "Gut microbiome of coexiting BaAka Pygmies and Bantu reflects gradients of traditional subsistence patterns" Cell Reports (2016) 14(9):2142-2153 [PMID: 26923597]
Gomez A; Rothman JM; Petrzelkova K; Yeoman CJ; Vlckova K; Umaña JD; Carr M; Modry D; Todd A; Torralba M; Nelson KE; Stumpf RM; Wilson BA; Blekhman R; White BA; Leigh SR "Temporal variation selects for diet-microbe co-metabolic traits in the gut of Gorilla spp." ISME J (2016) 10(2):514-526 [PMID: 26315972]
Wilson BA, Ho M (book chapter) "The biosecurity threat posed by biological toxins" In: Handbooks in Toxinology: Biological Toxins and Bioterrorism (2015), Gopalakrishnakone P, Balali-Mood M, Singh BR, Llewellyn L (Eds.), Springer Science, Dordrecht, pp. 141-183.
Fan Y, Geren IN, Dong J, Lou J, Wen W, Conrad F, Smith TJ, Smith LA, Ho M, Pires-Alves M, Wilson BA, Marks JD "Monoclonal antibodies targeting the alpha-exosite of botulinum neurotoxin serotype A inhibit catalytic activity" PLoS One (2015) 10(8):e0135306 [PMID: 26275214]
Fan Y, Dong J, Lou J, Wen W, Conrad F, Geren IN, Garcia-Rodriguez C, Smith TJ, Smith LA, Ho M, Pires-Alves M, Wilson BA, Marks JD "Monoclonal antibodies that inhibit the proteolytic activity of botulinum neurotoxin serotype B" Toxins (2015) 7(9):3405-3423 [PMID: 26343720]
Kapheim KM, Rao VD, Yeoman CJ, Wilson BA, White BA, Goldenfeld N, Robinson GE "Caste-specific differences in hindgut microbial communities of honey bees (Apis mellifera)" PLoS One (2015) 10(4):e0123911 [PMID: 25874551]
Amato KR, Leigh SR, Kent A, Mackie RI, Yeoman CJ, Stumpf RM, Wilson BA, Nelson KE, White BA, Garber PA "The gut microbiota appears to compensate for seasonal diet variation in the wild black howler monkey (Alouatta pigra)" Microbial Ecology (2015) 69(2):434-443 [PMID: 25524570]
Gomez A, Petrzelkova K, Yeoman CJ, Vlckova K, Mrázek J, Koppova I, Carbonero F, Ulanov A, Modry D, Todd A, Torralba M, Nelson KE, Gaskins HR, Wilson B, Stumpf RM, White BA, Leigh SR "Gut microbiome composition and metabolomic profiles of wild western lowland gorillas (Gorilla gorilla gorilla) reflect host ecology" Mol Ecol (2015) 24(10):2551-2565 [PMID: 25846719]
Wilson BA, Ho M (review) "Cargo-delivery platforms for targeted delivery of inhibitor cargos against botulism" Current Topics in Medicinal Chemistry (2014) 14(18):2081-2093 [PMID: 25335885]
Yildirim S; Yeoman CJ; Chandra Janga S; Thomas SM; Ho M; Leigh SR; White BA; Wilson BA*; Stumpf RM* "Primate vaginal microbiomes exhibit species specificity without universal Lactobacillus dominance" ISME J (2014) 8(12):2431-2444 (*co-senior authors) [PMID: 25036926]
Walther-Antonio MR; Jeraldo P; Berg Miller ME; Yeoman CJ; Nelson KE; Wilson BA; White BA; Chia N; Creedon DJ "Pregnancy's stronghold on the vaginal microbiome" PLoS ONE (2014), 9(6):e98514 [PMID: 24896831]
Amato KR, Leigh SR, Kent A, Mackie RI, Yeoman CJ, Stumpf RM, Wilson BA, Nelson KE, White BA, Garber PA "The role of gut microbes in satisfying the nutritional demands of adult and juvenile wild, black howler monkeys (Alouatta pigra)" Am J Phys Anthropol (2014) 155(4):652-664 [PMID: 25252073]
Wilson BA, Ho M "Pasteurella multocida - from zoonoses to cellular microbiology" Clinical Microbiology Reviews (2013) 26(3):631-655 [PMID: 23824375]
Repella TL; Ho M; Wilson BA "Determinants of pH-dependent modulation of translocation in dermonecrotic G-protein-deamidating toxins" Toxins (2013), 5:1167-1179 [PMID: 23771204]
Brothers MC; Geissler B; Hisao GS; Wilson BA; Satchell KJF; Rienstra CM "Backbone 1H, 13C, and 15N and side-chain assignments of an effector membrane localization domain from Vibrio vulificus MARTX toxin" J Biomolecular NMR (2013), in press [PMID: 23765285]
Brothers MC; Geissler B; Hisao GS; Satchell KJF; Wilson BA; Rienstra CM "Backbone 1H, 13C, and 15N and side-chain assignments of the membrane localization domain from Pasteurella multocida toxin" J Biomolecular NMR (2013), 8(1):221-4 [PMID: 23765284]
Gargi A; Tamilselvam B; Powers B; Prouty MG; Lincecum T; Eshraghi A; Maldonado-Arocho FJ; Wilson BA; Bradley KA; Blanke SR "Cellular interactions of the cytolethal distending toxins from Escherichia coli and Haemophilus ducreyi" J Biol Chem (2013), 288(11):7492-7505 [PMID: 23306199]
Yeoman CJ; Thomas SM; Berg Miller ME; Ulanov AV; Torralba M; Lucas S; Gillus M; Gomez A; Ho M; Leigh SR; Stumpf R; Creedon DJ; Smith MA; Weisbaum JS; Nelson KE; Wilson BA; White BA "A multi-omic systems-based approach reveals metabolic markers of bacterial vaginosis and insight into the disease" PLoS One (2013), 8(2):e56111 [PMID: 23405259]
Amato KR; Yeoman CJ; Kent A; Righini N; Carbonero F; Estrada A; Gaskins HR; Stumpf RM; Yildirim S; Torralba M; Gillis M; Wilson BA; Nelson KE; White BA; Leigh SR "Habitat degradation impacts Black Howler Monkey (Alouatta pigra) gastrointestinal microbiomes" ISME J (2013) 7:10.1038 [PMID: 23486247]
Oubrahim H; Wong A; Wilson BA; Chock PB "Pasteurella multocida toxin (PMT) upregulates CTGF which leads to mTORC1 activation in Swiss 3T3 cells" Cell Signaling (2013) 25(5):1136-1148 [PMID: 23415771]
Oubrahim H; Wong A; Wilson BA; Chock PB "Mammalian target of rapamycin complex 1 (mTORC1) plays a role in Pasteurella multocida toxin (PMT)-mediated protein synthesis and proliferation in Swiss 3T3 cells" J Biol Chem (2013), 288(4):2805-2815 [PMID: 23223576]
Stumpf RM, Wilson BA, Rivera A, Yildirim S, Yeoman CJ, White BA, Polk JD, Leigh SR "Primate vaginal microbial ecology: Comparative content and implications for human health and disease" Am J Phys Anthropol (2013) 152(S57):119-134: doi: 10.1002/ ajpa.22395
Orth JHC; Fester I; Siegert P; Weise M; Lanner U; Kamitani S; Tachibana T; Wilson BA; Schlosser A; Horiguchi Y; Aktories K "Substrate specificity of Pasteurella multocida toxin for α-subunits of heterotrimeric G proteins" FASEB J (2012) 27(2):832-842 [PMID: 23150526]
Bannai Y; Aminova LR; Faulkner MJ; Ho M; Wilson BA "Rho/ROCK-dependent inhibition of 3T3-L1 adipogenesis by G-protein-deamidating dermonecrotic toxins through differential regulation of Notch1, Pref1/Dlk1, and β-catenin signaling" Frontiers in Cellular and Infection Microbiology (2012), 2:80e [PMID: 22919671]
Ho M; Goh C-H; Brothers MC; Wang S; Young RL; Ou Y; Lui JN-M; Kalafatis M; Lan X; Wolf AE; Rienstra CM; Wilson BA "Glycine insertion at protease cleavage site of SNAP25 resists cleavage but enhances affinity for botulinum neurotoxin serotype A" Protein Science (2012), 21:318-326 [PMID: 22170566]
Wilson BA; Ho M "Cellular and molecular action of the mitogenic protein-deamidating toxin from Pasteurella multocida" FEBS Journal (2011), 278(23):4616-4632 [PMID: 21569202]
White BA; Creedon DJ; Nelson KE; Wilson BA "The vaginal microbiome in health and disease" Trends Endocrin Metab (2011), 22(10):389-393 [PMID: 21757370]
Brothers MC; Ho M; Maharjan R; Clemons NC; Bannai Y; Waites MA; Faulkner MJ; Kuhlenschmidt TB; Kuhlenschmidt MS; Blanke SR; Rienstra CM; Wilson BA "Membrane interaction of Pasteurella multocida toxin involves sphingomyelin" FEBS Journal (2011), 278(232):4633-4648 [PMID: 21951695]
Wilson BA; Salyers AA; Whitt DD; Winkler ME. Bacterial Pathogenesis: A Molecular Approach (Third Edition), ASM Press, Washington, DC (2011) [textbook]
Repella T; Ho M; Chong TPM; Bannai Y; Wilson BA "Arf6-dependent intracellular trafficking of Pasteurella multocida toxin and pH-dependent translocation from late endosomes" Toxins (2011) 3:218-241 [PMID: 22053287]
Yeoman CJ; Chia N; Yildirim S; Berg Miller ME, Stumpf R, Leigh SR; Nelson KE; White BA; Wilson BA "Towards an Evolutionary Model of Animal-Associated Microbiomes" Entropy (2011) 13:570-594 (e13030570) [http://www.mdpi.com/1099-4300/13/3/570]
Ho M; Chang L-H; Pires-Alves M; Thyagarajan B; Bloom JE; Gu Z; Aberle KK; Bannai Y; Johnson SC; McArdle JJ; Wilson BA "Expression and purification of botulinum neurotoxin A heavy chain-based GFP-fusion proteins as prototype delivery vehicles for neuronal cell targeting" Protein Engineering, Design, and Selection (2011) 24(3):247-253 [PMID: 21051321]
Yildirim S; Rivera AJ; Leigh SR; Yeoman CJ; White BA; Goldberg TL; Wilson BA; Stumpf RM "Vaginal microbial community structure and maternal ecology in primates" Am J Phys Anthropol (2011) S144:315-316
Wilson BA; Ho M "Recent insights into Pasteurella multocida toxin and other G-protein-modulating bacterial toxins" Future Microbiology (2010) 5(8):1185-1201 [PMID: 20722598]
Yildirim S; Yeoman CJ; Sipos M; Torralba M; Wilson BA; Goldberg TL; Stumpf RM; Leigh SR; White BA; Nelson KE "Characterization of fecal microbiome from non-human wild primates reveals species specific microbial communities" PLoS ONE (2010) 5(11):e13963 [PMID: 21103066]
Yeoman CJ; Yildirim S; Thomas SM; Durkin AS; Torralba M; Sutton G; Buhay CJ; Ding Y; Dugan-Rocha SP; Muzny DM; Qin X; Gibbs RA; Leigh SR; Stumpf R; White BA; Highlander S; Nelson KE; Wilson BA "Comparative genomics of Gardnerella vaginalis strains reveals substantial differences in metabolic and virulence potential" PLoS ONE (2010), 5(8):e12411 [PMID: 20865041]
Gupta VR; Wilson BA; Blanke SR "Sphingomyelin is important for the uptake and intracellular trafficking of Helicobacter pylori VacA" Cellular Microbiology (2010), 12(10):1517-1533 [PMID: 20545942]
Rivera AJ; Frank JA; Stumpf RM; Salyers AA; Wilson BA; Olsen GJ; Leigh S "Differences between the normal vaginal bacterial community of baboons and that of humans" Am J Primatol (2010) 71:1-8 [PMID: 20853395]
Dong J; Thompson AA; Fan Y; Lou J; Conrad F; Ho M; Pires-Alves M; Wilson BA; Stevens RC; Marks JD "A single-domain llama antibody potently inhibits the enzymatic activity of botulinum neurotoxin by binding to the non-catalytic alpha-exosite binding region" J Mol Biol (2010) 397:1106-1118 [PMID: 20138889]
Rivera AJ; Stumpf RM; Wilson BA; Leigh S; Salyers AA "Baboon vaginal microbiota: an overlooked aspect of primate physiology" Am J Primatol (2010) 72:467-474 [PMID: 20095026]
Orth JHC; Preuß I; Fester I; Schlosser A; Wilson BA; Aktories K "Pasteurella multocida toxin activates various heterotrimeric G proteins by deamidation" Proc. Natl. Acad. Sci. USA (2009) 106:7179-7184 [PMID: 22069582]
Kim TK; Thomas SM; Ho M; Sharma S; Reich C; Frank J; Yeater KM; Biggs D; Nakamura N; Stumpf R; Leigh SR; Tapping RI; Blanke SR; Slauch JM; Gaskins HR; Weisbaum JS; Olsen GJ; Hoyer LL, Wilson BA "Heterogeneity of vaginal microbial communities within individuals" J Clin Microbiol (2009) 47:1181-1189 [PMID: 19158255]
Pires-Alves M; Ho M; Aberle KK; Janda KD; Wilson BA "Tandem fluorescent proteins as FRET-based substrates for botulinum neurotoxin activity" Toxicon (2009) 53:392-399 [PMID: 19168088]
Orth JHC; Fester I; Preuß I; Agnoletto L; Wilson BA; Aktories K "Activation of Gαi and subsequent uncoupling of receptor-Gαi signaling by Pasteurella multocida toxin" J Biol Chem (2008) 283:23288-23294 [PMID: 18583341]
Ozgen N; Obreztchikova M; Guo J; Elouardighi H; Dorn GW 2nd; Wilson BA; Steinberg SF "Protein kinase D links Gq-coupled receptors to cAMP response element-binding protein (CREB)-Ser133 phosphorylation in the heart" J Biol Chem (2008) 283:17009-17019 [PMID: 18378685]
Frank JA; Reich CI; Sharma S; Weisbaum JS; Wilson BA; Olsen GJ "Critical evaluation of two commonly-used primers for amplification of bacterial 16S rRNA genes" Appl Environ Microbiol (2008) 74:2461-2470 [PMID: 18296538]
Aminova LR; Luo S; Bannai Y; Ho M; Wilson BA "The C3 domain of Pasteurella multocida toxin is the minimal domain responsible for activation of calcium and mitogenic signaling" Protein Science (2008) 17:1-5 [PMID: 18369188]
Luo S; Ho M; Wilson BA "Application of intact cell-based NFAT-β-lactamase reporter assay to study Pasteurella multocida toxin-mediated activation of calcium signaling pathway" Toxicon (2008) 51:597-605 [PMID: 18190943]
Wilson BA "Global Biosecurity in a Complex, Dynamic World" Complexity (2008) 14(1):71-88 [http://onlinelibrary.wiley.com/doi/10.1002/cplx.20246/abstract]
Aminova LR; Wilson BA "Calcineurin-independent inhibition of 3T3-L1 adipogenesis by Pasteurella multocida toxin: Suppression of Notch1, stabilization of β-catenin and Pref1" Cellular Microbiology (2007) 9:2485-2496 [PMID: 17581254]
Baldwin MR; Tepp WH; Pier CL; Bradshaw M; Ho M; Wilson BA; Fritz RB; Johnson EA; Barbieri JT "Characterization of the antibody response to the receptor binding domain of botulinum neurotoxin serotypes A and E" Infect Immun (2005) 73:6998-7005 [PMID: 16177380]
Sabri A; Wilson BA; Steinberg SF "Dual actions of the Gαq agonist Pasteurella multocida toxin to promote cardiomyocyte hypertrophy and enhance apoptosis susceptibility" Circ Res (2002) 90:850-857 [PMID: 11988485]
Wilson BA; Aminova LR; Ponferrada VG; Ho M "Differential modulation and subsequent blockade of mitogenic signaling and cell cycle progression by Pasteurella multocida toxin" Infect Immun (2000), 68:4531-4538 [PMID: 10899852]
Seo B; Choy EW; Maudsley; Miller WE; Wilson BA; Luttrell LM "Pasteurella multocida toxin stimulates mitogen-activated protein kinase via Gq/11-dependent transactivation of the epidermal growth factor receptor" J Biol Chem (2000) 275:2239-2245 [PMID: 10636931]
Wilson BA; Zhu X; Ho M; Lu L "Pasteurella multocida Toxin activates the inositol trisphosphate signalling pathway in Xenopus oocytes via Gq-coupled phospholipase C-β1" J Biol Chem (1997) 272:1268-1275 [PMID: 8995431]
Textbook: Wilson BA, Winkler ME, Ho BT. Bacterial Pathogenesis: A Molecular Approach (Fourth Edition), ASM Press, Washington, DC, 2019
Recent Publications
Haywood, E. E., Handy, N. B., Lopez, J. W., Ho, M., & Wilson, B. A. (2021). Insertion-trigger residues differentially modulate endosomal escape by cytotoxic necrotizing factor toxins. Journal of Biological Chemistry, 297(5), [101347]. https://doi.org/10.1016/j.jbc.2021.101347
Ho, M., Moon, D., Pires-Alves, M., Thornton, P. D., McFarlin, B. L., & Wilson, B. A. (2021). Recovery of microbial community profile information hidden in chimeric sequence reads. Computational and Structural Biotechnology Journal, 19, 5126-5139. https://doi.org/10.1016/j.csbj.2021.08.050
Peng, Z., Liu, J., Liang, W., Wang, F., Wang, L., Wang, X., Hua, L., Chen, H., Wilson, B. A., Wang, J., & Wu, B. (2021). Development of an Online Tool for Pasteurella multocida Genotyping and Genotypes of Pasteurella multocida From Different Hosts. Frontiers in Veterinary Science, 8, [771157]. https://doi.org/10.3389/fvets.2021.771157
Sharma, A. K., Petrzelkova, K., Pafco, B., Robinson, C. A. J., Fuh, T., Wilson, B. A., Stumpf, R. M., Torralba, M. G., Blekhman, R., White, B., Nelson, K. E., Leigh, S. R., & Gomez, A. (2020). Traditional human populations and nonhuman primates show parallel gut microbiome adaptations to analogous ecological conditions. mSystems, 5(6), [e00815-20]. https://doi.org/10.1128/mSystems.00815-20
Gomez, A., Sharma, A. K., Mallott, E. K., Petrzelkova, K. J., Robinson, C. A. J., Yeoman, C. J., Carbonero, F., Pafco, B., Rothman, J. M., Ulanov, A., Vlckova, K., Amato, K. R., Schnorr, S. L., Dominy, N. J., Modry, D., Todd, A., Torralba, M., Nelson, K. E., Burns, M. B., ... Leigh, S. R. (2019). Plasticity in the human gut microbiome defies evolutionary constraints. mSphere, 4(4), [e00271-19]. https://doi.org/10.1128/mSphere.00271-19