Fellowship recipient is exploring possible therapeutics for Fragile X Syndrome
Image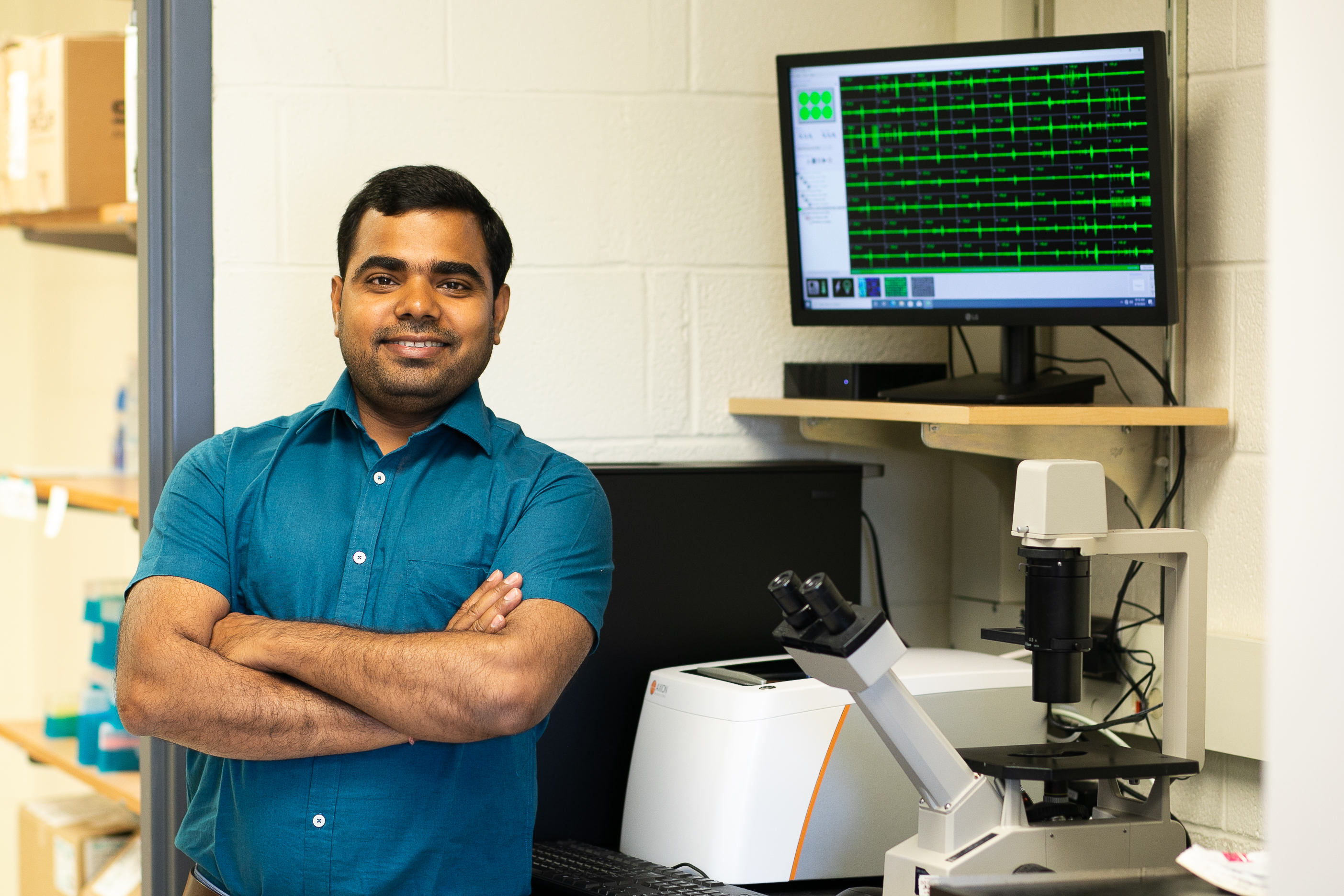 In his years investigating neurobiology, Vipendra Kumar, a postdoctoral research associate in professor Nien-Pei Tsai's lab, has covered much ground. From working on Huntington's disease to Angelman syndrome, Kumar has developed a strong understanding and deep passion for disease therapeutics and diagnostics. In recognition of his work, Dr. Kumar was recently awarded a fellowship from the FRAXA Research Foundation, whose mission is to discover better treatments and ultimately cure the genetic disorder Fragile X Syndrome.
His role model is none other than his principal investigator, Nien-Pei Tsai, a professor of molecular and integrative physiology in the School of Molecular & Cellular Biology. The Tsai lab examines the molecular mechanisms underlying homeostasis of neuronal excitability and synaptic plasticity in health and disease.
"Dr. Tsai's a great mentor. He lets you think and knows when to give you input. He's the gold standard and I'm learning how to be a good mentor from him," Kumar said. "I would also like to thank the FRAXA research foundation for awarding us with the research grant. This support will have a profound impact on my ability to further my research and contribute to the field. With this grant, I will be able to access vital resources, gather necessary data, and collaborate with fellow researchers, all of which are crucial to the success of my project."
As a postdoctoral research associate, Kumar said he is driven by the desire to learn how to create and answer his own research questions as well as to develop a myriad of scientific methods so that he can become a good supervisor in future.
Kumar's foray into scientific research first began during his undergraduate years at Acharya Narendra Dev College in the University of Delhi, India. His summer projects exploring phytochemicals with potential antidiabetic properties and their effect on Type 2 diabetes spurred his interest in science. From there, he wanted to learn more about neuroscience, specifically neurodevelopmental disorders and how they affected brain function. This led him to pursuing his M.S.-PhD at the National Brain Research Centre in India, where he studied Angelman syndrome, in which a loss of maternal allele of UBE3A gene on chromosome 15 results in symptoms similar to, yet not falling under the category of, autism spectrum disorder. During his graduate studies, Kumar gained an understanding of and appreciation for the development of therapeutics.
"It is important for us (to develop therapeutic methods) as we do not know much about how diseases manifest molecularly even though we have clear-cut dichotomies of their behavioral aspects," he said.
The conclusion of his PhD coincided with the COVID-19 pandemic, resulting in Kumar searching for post-doc positions from the confines of his home in India. That was when he chanced upon a postdoc opening in the Tsai lab.
"(The position) looked very advantageous and I knew that the school had very good interdisciplinary facilities. If I did my postdoc here, I would be able to receive multi-disciplinary training," Kumar said. He thus joined the lab in March 2021 and began his research into understanding how Fragile X Syndrome works on a molecular level.
FXS is highly dynamic in terms of the way it affects patients. Even through the life cycle of a patient, symptoms can change and evolve, akin to a moving target. Therefore, treatments have to be precise enough to mitigate both behavioral and molecular outcomes. 
To do so, Kumar studied the failures of previous clinical trials globally. He specifically looked into the three groups of metabotropic glutamate receptors (mGluRs); in the process, he found out that Group 1 mGluRs are excitatory whereas Groups 2 and 3 mGluRs were inhibitory in nature, and that previous drug trials targeting Group 1 mGluRs had only worked for a short period of time. Through keen literature reading and scientific acumen, Kumar decided to look more closely into Group 3 mGluRs due presence of a specific agonist and antagonist and the long-lasting effects of targeting them. In particular, he had become interested in mGluR 7, which he had seen briefly mentioned in other papers previously, but had not been well-studied. He thus began his dive into understanding it better, resulting in his finding that activating it suppresses general protein synthesis, which the loss of the protein expressed by FMRP, the protein derived from key FXS gene FMR1, elevates.
This breakthrough is important because activating mGlur7 could potentially balance the basally elevated protein levels back to normal. Beyond that, Kumar also used electrophysiology to understand mGlur7's relationship with neuronal excitability, where he found out that a activation of mGlur7 results in a reduction in the excitability of the circuit. As of now, Kumar is thus looking into understanding how mGlur7 can affect other symptoms of FXS, such as behavioral symptoms, within mice models. 
Kumar has bright ideas for the future, too.
"If possible, I'd like to eventually become a faculty member here," Kumar said.
Related topics: