Image
The School of Molecular & Cellular Biology is pleased to announce winners of its "Life Inspiring" art competition.
Earlier this year, undergraduate and graduate students were invited to submit original art that captured the joys of their scientific endeavors, whether through graphic design, drawings, paintings, photography, or mixed media pictures. Selected art will be displayed in Burrill Hall later this year. The gallery will be a celebration of the intersection of the life sciences and art.
Another call for submissions will be announced in the spring.
First Place
Title
"Journey of a Bacteriophage," by Microbiology PhD student Lindsey Grady
Body
Image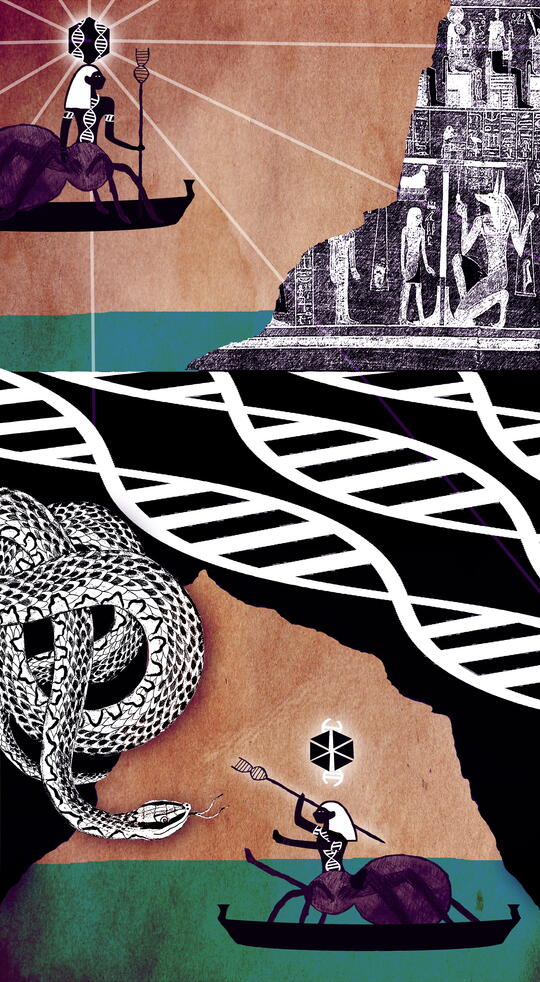 P.I./Faculty advisor: Asma Hatoum-Aslan
Artist statement: "One of the cyclic myths of Egyptian mythology is the journey of the sun god Ra. Ra passes through the sky on his solar barque (boat) during the day, carrying the sun disk above his head, and passes through the underworld during the night, where he must survive the snake of chaos, Apophis.
This myth is reflected in the ancient cycle of infection and immunity between bacteria and their viruses, which are called bacteriophages. Here, the bacteriophage is depicted with characteristic spider legs and capsid of DNA above his head. He journeys on his solar barque until sunset, upon which he may infect a bacteria, shown as a rugged landscape. Once inside the bacteria, the bacteriophage must survive the bacteria's various immune systems, portrayed by the great serpent Apophis.
In the Hatoum-Aslan lab, I am privileged to study this ancient cycle, and felt compelled to illustrate its place in antiquity."
Second Place
Title
"The Protein's Starry Night," by Biochemistry PhD student Yiquan Wang
Body
Image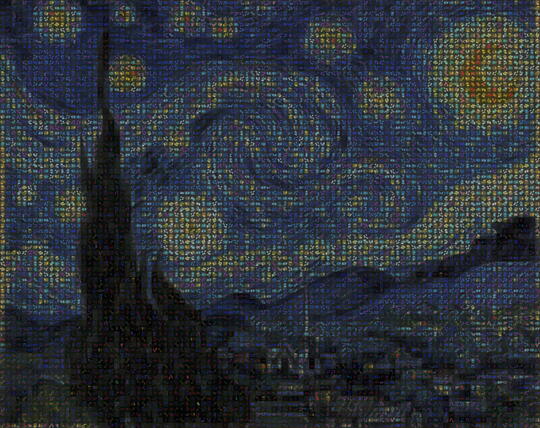 P.I./Faculty sponsor: Nicholas Wu
Artist statement: "I am deeply interested in unraveling the intricate relationship between protein sequence, structure, and function. Notably, the advent of AlphaFold (AI model) has enabled remarkably accurate prediction of protein 3D structures. Consequently, this breakthrough has paved the way for investigating numerous enigmatic functions across the vast expanse of the protein universe. In my latest artwork, The Protein's Starry Night, a total of 179 fluorescent proteins were selected as protein representatives and visualized with the Pymol API. The ethereal luminescence exhibited by fluorescent proteins fits perfectly with the artistic essence embodied in the starry sky. These protein structures were used as mosaic images, and eventually spliced together to form the entire protein starry night. This work symbolizes the intriguing and breathtaking nature of the protein universe—an ethereal blend of fascination and aesthetic beauty."
Third Place
Title
"Heat Map of Consciousness," by Neuroscience PhD student Kerem Catalbas
Body
Image
P.I./Faculty sponsor: Patrick Sweeney
Artist statement: "I am a first-year Neuroscience PhD student and my research focuses on how gut-brain satiety signaling plays a role in increasing food intake during pregnancy and lactation to accommodate the energetically demanding process of lactation.
Along with my research journey in the School of Molecular & Cellular Biology, I was fascinated by brain structure and function, and how different areas work in harmony even though they are functionally very distinct. Therefore, in this artistic work, I wanted to draw surrealistically the different neuronal populations inside a cross-sectioned brain, emphasizing how complex yet marvelous the overall brain structure is."
Honorable Mention
Title
"We Search," by MCB undergraduate student Laurel Hart
Body
Image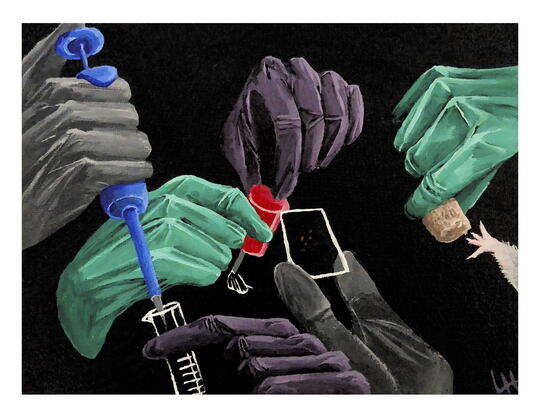 P.I./Faculty sponsor: Benjamin Auerbach
Artist statement: "This painting pays homage to the collaboration, instruction, and controlled chaos of a research laboratory. It takes a village to keep all of the projects at any given time moving smoothly, and to watch the pieces gradually come together over time is extremely rewarding. In my time in Dr. Benjamin Auerbach's lab, I've had the privilege and pleasure of working alongside such a bright, inspiring team of people. The mentorship I have received has been integral to my growth as a researcher, and I'm deeply grateful to my advisers and colleagues for such a valuable experience. Depicted are several projects I have contributed to, including fluorescence microscopy and rat behavior assaying. I investigate neuron growth in models of autism spectrum disorder, and how aberrant development contributes to sensory processing deficits. This critical link may have major applications in sensory oversensitivity treatment and quality of life improvement for individuals with autism."
Related topics: